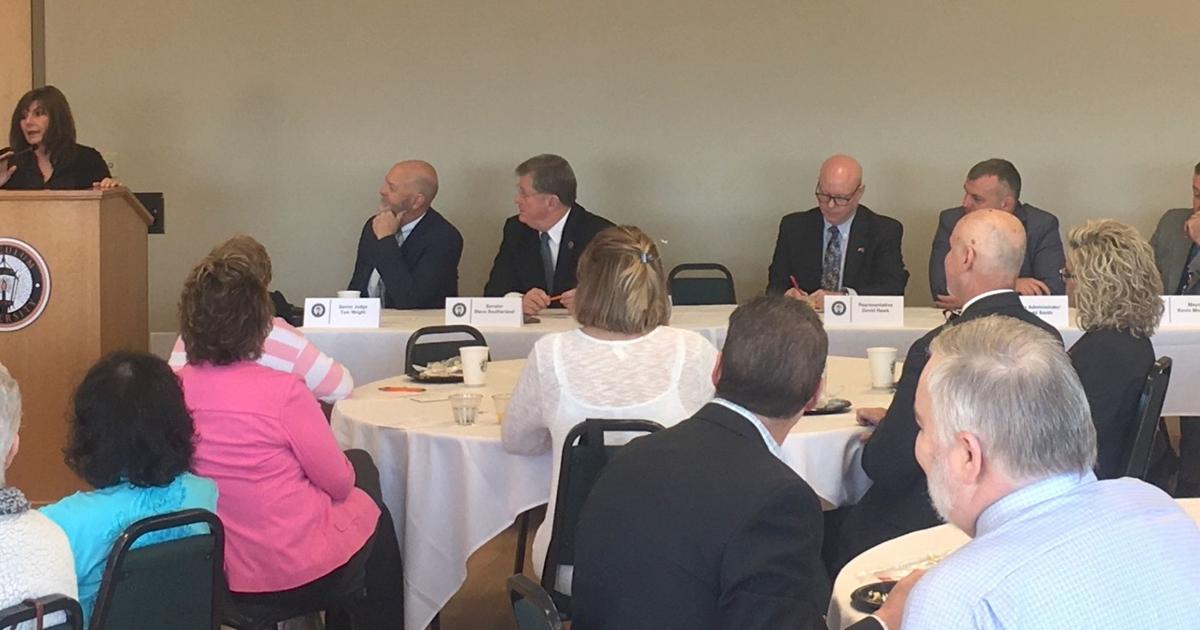 Greene County Partnership Hosts First Legislative Breakfast Since 2019 | Local News
State and federal lawmakers gathered with community members at Tusculum University Friday morning for a Legislative Breakfast hosted by the Greene County Partnership.
It was the first in-person legislative breakfast held since 2019, before the COVID-19 pandemic put a damper on such gatherings.
"Having this in person is important to provide a forum for accessibility. This is a very busy legislative year with many laws that will impact the future of our state," said Greene County Partnership Chairman Jeff Taylor. "The fact that our local legislators are so available during this legislative session speaks volumes."
U.S. Representative Diana Harshbarger, State Representative David Hawk, State Senator Steve Southerland, Greene County Mayor Kevin Morrison and Greeneville City Administrator Todd Smith were all present at the breakfast. .
Harshbarger spoke first and told the crowd that she was working on anti-vaccine passport legislation, legislation that supports natural immunity and legislation that would allow citizens to 'sue' the government they have a vaccine injury due to a vaccine mandate.
Harshbarger also commented on the Russian invasion of Ukraine over breakfast, calling the Russian invasion a genocide.
"What is happening in Ukraine is genocide. It doesn't matter if these people were corrupt. It's about those poor innocents you see on the street. Women and children," Harshbarger said.
Zac Rutherford, Harshbarger's chief of staff, clarified the MP's comment on corruption in a phone call on Friday afternoon.
"What she meant was that in the news some people are saying that no aid should be given to Ukraine because the Ukrainian government is corrupt. The MP supports humanitarian and lethal aid to Ukraine through policies initiated under the Trump administration and continued by the Biden administration," Rutherford said. "His main target is civilians in need of humanitarian aid."
According to Rutherford, Harshbarger doesn't think it matters right now whether Ukraine is corrupt or not. She only cares about providing lethal and humanitarian aid to the nation as she defends herself against Russia.
Harshbarger lamented the way government operates in Washington, D.C. and praised the Greene County government for its efficiency.
"Listen, your county government is doing well. I brag about you all the time. I always talk about Greeneville. Things would be better in Washington if they considered handling things the way Tennessee is handling them," Harshbarger said.
Hawk spoke about possible developments coming to the former Greene Valley Developmental Center property, including a Tennessee College of Applied Technology and a Department of Intellectual and Developmental Disabilities office and service center.
Both projects are in the state budget proposal that is making its way through the Tennessee General Assembly.
"The TCAT proposal is one of the most exciting opportunities I've seen in two decades," Hawk said. "We're not going to do anything in Greene Valley that people don't like. It will be a plus for the community. »
The Tennessee Board of Regents proposed $25 million for a new TCAT structure in Greene County, and about $5 million to provide the facility with training and teaching equipment.
The budget proposal also shows that approximately $180.6 million would be used to build three regional DIDD offices across the state, one of which would be located on the Greene Valley property.
"The TCAT project that's happening here is what happens when everyone works together," Southerland said. "I want to thank everyone who helped make this happen, from Mayor Morrison to David (Hawk) and everyone else, everyone helped make this happen."
The two lawmakers also said they were working on ways to keep vapes out of the reach of children in the state.
"No one under 21 should have a vape, but they go online and can order from there. We're trying to find ways to stop that and limit flavors," Southerland said.
"Vaping among youth and young adults is a serious problem. We need to keep bad things like vapes out of reach of children, but also out of reach of adults. It's a major health issue," Hawk said.
Smith updated breakfast attendees on the progress of the downtown redevelopment and other projects.
"The Depot Street project is going well. This will be a long term project, so be patient. We're looking to finish this in the summer of next year and plan to have a big party when it's done," Smith said. "Our new fire station is expected to be completed around September this year, which we are very pleased about."
Smith also mentioned that the new beach volleyball courts at Hardin Park will be completed by this summer.
"We're going to have six new beach volleyball courts there, and we may have a summer league this year, so be on the lookout for that," Smith said.
"Revenue exceeds last year's revenue. Fiscally, we are in very good shape. Our community is growing. Fiscally, the city of Greeneville is in incredible shape," Smith said.
Greene County is also in good financial shape right now, according to Morrison.
"Across all departments and funds in Greene County, we have very strong balance sheets. We have great cooperation between our county commission and our elected officials who run our departments," Morrison said. "Our current priority is to maximize grant opportunities, and those unconditional opportunities. We're trying to get all the money that we can that's available for projects here off the table so that it doesn't end up somewhere in California.
Morrison said an example of this is using grant funding from the Tennessee Department of Environment and Conservation to improve water and sewer systems in the county, especially around the freeway to maximize the county's ability to develop commerce there.
Greene County is receiving about $7 million in matching grants from TDEC using about $1.5 million in U.S. bailout funding for the projects.
Morrison also expressed optimism about the county's decision to partner with Greeneville Light and Power to provide broadband to the community, and congratulated GLPS President Chuck Bowlin.
"This week we partnered with Greeneville Light and Power to launch our broadband project. Chuck and his team at GLPS are up to the task, and we look forward to being your fighting mate," said Morrison.
Morrison also thanked Smith for Greeneville's commitment to the GLPS broadband initiative.
Morrison told those at the breakfast that the Greene County government would try to keep things steady and move forward with caution and intent.
"We are going to keep a firm hand on the tiller. We will try to sail very slowly and calmly," Morrison said. "We will have a cautious, measured approach so that we can preserve efficiency and maximize opportunities."