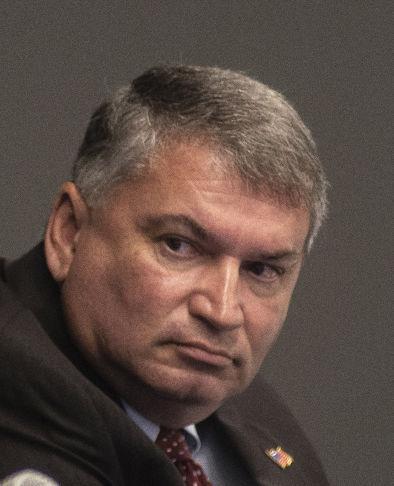 Ivan Figueroa aims to keep Brunswick on track as mayor | Local News
[ad_1]
The group of eight candidates vying to be Brunswick's next mayor was reduced to two on November 2, with Cosby Johnson and Ivan Figueroa coming out of the pack to advance to the second round.
Early voting for the second round to decide the next mayor of Brunswick is currently underway, with the day of the second round set for November 30.
The News sent questionnaires to both candidates asking for their positions on a variety of topics. Here are Ivan Figueroa's answers in his own words.
The News: Tell us a bit about why you're running.
Figueroa: My wife Karen and I made our home in Brunswick because we were drawn to a strong sense of community. This feeling has only grown over the years. We love our neighbors and love to walk around town to meet new friends and support our local businesses. In short, we love what makes Brunswick our home. I had been looking for opportunities to get more involved, but after serving two terms on Georgia City Council when my daughters were young, I know the commitment it takes to get the job done and do the job well. When I retired last year, Karen and I discussed running for mayor because besides having the time and experience, I have this commitment. In my professional life, I have worked for large and small companies that have provided municipal services to a variety of cities and counties in Georgia. In 2011, Governor Nathan Deal appointed me to the State Workforce Development Board of Directors where I served until 2018. You can find more information about my background at VoteIvan.com. While experience and recognition are important, in my book the most important thing a mayor can offer is the passion to serve Brunswick from corner to corner. We need someone whose priority is our city – our businesses, our residents and our quality of life. Karen and I make SoGlo home – you will often see me in our backyard or in the neighborhood. Say hello, whatever the outcome of this election, we are not going anywhere because Brunswick is our home.
What will you do to keep Brunswick moving forward?
Brunswick must continue to focus on economic development. We have a good program in place, but we need a deepening. Under my leadership, the existing program and staff will be given more tools to expand their reach and success. An investment in economic development is an investment in Brunswick. The competition is strong, but we are stronger. A top priority will be leveraging the work of Forward Brunswick, the county and the chamber to ensure all visions align. A strong team is our best asset. We will also work to provide consistent services for everyone. As mayor, I will mobilize our faith community and our multiple service resources. We need to recognize that we have social issues to overcome and that healing and growing together as one community is achievable. Communication and transparency will be a higher priority. The marks of my leadership and of your government will be integrity and transparency.
What can be done to reduce the plague in the city?
One of my main priorities will be to work with the Land Bank to rehabilitate abandoned houses and make them back into homes. Brunswick has an inventory that can revitalize neighborhoods, improve affordability and increase community pride. As those around us wring their hands over the housing crisis, Brunswick has the ability to turn the page on the scourge and create opportunities through workforce housing. Burnt or irreparable structures should be demolished and the community engaged in the future of these properties. In 2016, NEWS reported that in just 7 years, the city destroyed 182 buildings. This program seems to have stopped, but I will work to restart it. At the most basic level, we will work with the trash can company to make sure they collect all the trash, every week, in every neighborhood. Enforcement of the code will support our efforts through education and enforcement. The police will issue a ticket and schedule the towing of abandoned vehicles rather than leaving this task to other services. The city will be transparent in plans for repaving roads and repairing and replacing sidewalks so that everyone understands the schedules. Every neighborhood matters and every leader will be held accountable.
What can be done to reduce crime in the city?
Public safety is everyone's business and it's my # 1 priority. Major crime in the city has declined dramatically in recent years. Having said that, I have repeatedly warned that when we fail to fill vacancies, we invite crime. At last count, we have over 20 unfilled officer positions. This is unacceptable and exposes our community and our agents to repeated and unnecessary risk. While the city has slightly increased officers' salaries, we fall short of the county and sheriff's office. We have agents in cars that should have been replaced years ago. The public service, and all those who serve our community will be at the center of my administration. Each employee will know that he is valued and above all responsible towards our citizens and our companies. An investment in public safety is an investment in the future of Brunswick.
What should the city do with the recreation programs once they take them out of the county?
The question as asked assumes that the city has made a final decision. Ten years ago, the city's parks were in bad shape, as were the recreation programs. The city was also in dire financial straits, so the county resumed operations. Local Options Sales Tax (LOST) negotiations with the county have been adjusted to cover costs. Next year we will have to face another LOST negotiation again and now that our parks are in great shape there have been calls to resume programs and spending and factor that into the LOST negotiations. Will that be enough to cover the costs and maintain the level of service that we are currently receiving? My opponent, who does not pay property taxes, said if necessary he would increase property taxes to pay for that. I'm not quite so keen on playing fast and free with taxpayer dollars. My approach would be to negotiate terms with the county that best serves the residents and force them to do so. My approach is to ask the residents of the city who pay the property tax what their wishes are on this initiative and on all initiatives. Did someone ask them? I know I did and I intend to listen.
How important are the upcoming LOST negotiations?
Every 10 years across the state, each city and county negotiates the distribution of the local option sales tax (1%). These funds, amounting to millions of dollars for each government, are of exceptional importance. It is not only the dollar amount, but also the impact that the negotiations will have on the next 10 years of regional governance. Ten years ago I was a member of Johns Creek City Council when we negotiated directly with Fulton County. We not only had the largest county in Georgia, but 14 cities to negotiate with, including Atlanta. I have already had a conversation with our very knowledgeable City Manager about my thoughts on LOST and if elected I will lead the Brunswick bargaining team to ensure we have a very positive outcome. This, and so many other areas discussed here, is where experience and a true understanding of how government works, as well as the vision and voices of our constituents can come together for the brightest possible future. from all of us in Brunswick.
What will you do to convince voters to support a SPLOST referendum next year?
Voters rejected SPLOST last year for a number of reasons, such as disliking project lists, poor communication about what exactly was right for them, wondering why there were still projects open and unfinished business from past years. These are all legitimate reasons, and those that can be addressed. The voters I spoke to also told me that they did not feel their voice was being heard. I am a strong supporter of SPLOST. My opinion is that we must ensure that all voters have the opportunity to be heard so that the list of the project reflects their values. We shouldn't have to convince people to vote for it when they are selecting projects in the first place. Elected city and county leaders must work hard to earn the trust of taxpayers – every day, every project.
[ad_2]