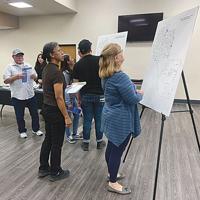 mayor says Measure Y will ensure local control | New
Residents were told Tuesday that if Measure Y is rejected, the city of Chino could face financial penalties, loss of state funding opportunities and an inability to control residential projects.
With the primary election looming in two weeks, the city has held workshops and reached out on social media to explain the measure that will appear on the June 7 ballot.
"If we lose local control, we can lose the community we have," Mayor Eunice Ulloa said at Tuesday's forum hosted by the Chino Valley Chamber of Commerce at the Chino Senior Center.
Mayor Ulloa, Councilman Chris Flores and Director of Developmental Services Nick Liguori served as panelists.
Twenty residents took part.
Mr. Liguori explained that the city created two overlays to allow 91 sites for residential and mixed-use developments. This strategy ensures the city will comply with the state's mandate to build 6,978 residential units by 2029, he said.
The affordable housing overlay includes 44 sites limited to residential developments, while the mixed-use overlay allows for 47 sites that are both commercial and residential, Ligouri said.
"If the city is found to be non-compliant with its housing element, the state could come down and dictate where homes should be built," Mayor Ulloa said.
The mayor said staff tried to identify places where higher density made sense without affecting existing neighborhoods.
"Chino is not a high density community," the mayor said. "There are still little pieces of us that are rural. We do our best to fight the pressure for higher density, but we have to comply with the law.
The council created Measure Y to comply with the requirements of Measure M, passed by Chino voters in 1988.
Under Measure M, the council cannot increase the permitted residential density of the land without voter approval.