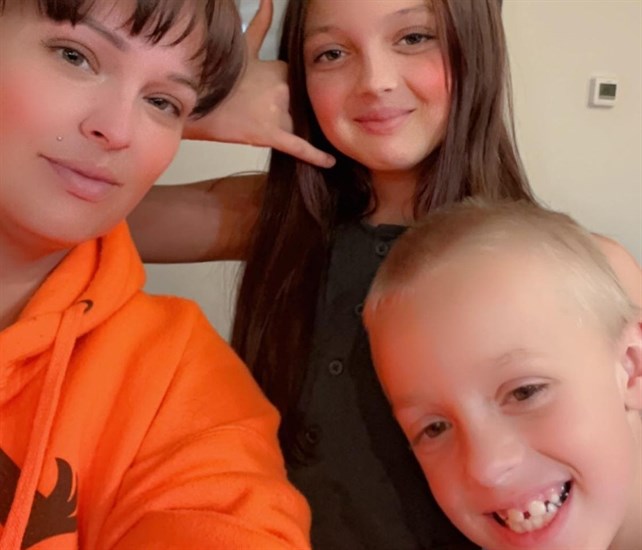 Penticton healthcare worker and children on the brink of homelessness
A single mother of two struggles to keep her family housed in the midst of a provincial housing crisis.
Currently living in a small one-bedroom apartment, Kandace Sztepanacz is getting deeper into debt every month.
"I'm sinking financially," she said. "I even had to take out payday loans. I live in fear that we'll end up living in my car, and in January there's a rent increase.
Sztepanacz doesn't know from month to month whether she'll be able to afford to continue living in her apartment, and between shifts as a nursing unit clerk at the Penticton Regional Hospital, she is looking for cheaper accommodation.
She is far from finding one in her price range, and the current stressful situation is having an impact on her mental health.
"The prices are amazing," she said. "Even properties that claim to be low-income cost $1,600 or more for a bedroom, and then they require rental insurance, parking fees, and add utilities on top of that.
"There are a few properties that have units in the lower price range, but they require you to have a certain credit score."

READ MORE: Governments must take 'serious action' to tackle housing crisis: accountants
Last year, Sztepanacz was receiving employment insurance benefits to supplement his salary, but is no longer eligible after moving into a full-time position a few months ago.
"Even with full-time hours, I'm barely getting by," she says. "I don't get child support, so I work overtime whenever possible."
This year, she applied for shelter allowance through BC Housing.
"They're basing it on last year's taxes and I had EI topped me up, which was too much to qualify for their low income bracket of $40,000 gross, not home, raw, to support three people," she said. "So I reapplied asking them to use what I'm currently making.
"They wanted three current pay stubs which I submitted, but the stubs reflected an unusually high period of overtime which I was able to enter when many of my colleagues were away. I explained it was higher than normal and showed them normal stubs but they used my overtime stubs and decided I was earning too much for the low income bracket and told me refused.
Sztepanacz asked to go back to school to become a nurse so she could earn more money, but had to put the plan on hold because she couldn't support her children at the same time.
She even tried to find a second job, but her rotating schedule as a hospital clerk prevented her from doing so.
Sztepanacz wants the government to step in and help families who desperately need affordable housing.
"My grandmother worked in the hospital running the radiology department for years and was able to afford a big, nice house where I grew up, but my generation can't afford to live. Something has to be done, the cost of living is way too high. I have a great job, one with a pension, but I live in fear that we will end up on the streets.

READ MORE: HOUSING CRISIS: Kamloops mom and kids in tough spot after losing their home
Sztepanacz has a family member who lives in Penticton who doesn't have room for all three of them.
"I know people my age and in their 40s who have had to move back in with their parents and others who work full time while living in their car."
As Sztepanacz takes each day one day at a time, she struggles with anxiety, fear and a sense of hopelessness that her family will one day feel financially stable and well housed.
According to Statistics Canada data from the 2021 census released in September, residents of British Columbia spent an average of 25.6% of their income on housing last year.
43.7% of Kelowna renters spent more than 30% of their income on housing last year.
36.1% of Kamloops renters paid more than 30% last year.
The data published by Statistics Canada does not include a breakdown for small communities.

READ MORE: Renters in Kamloops and Kelowna find it harder to find housing than homeowners: StatsCan

– This story was corrected at 8:56 to change the title as the woman is not a nurse.
---

To contact a reporter for this story, email Shannon Ainslie or call 250-819-6089 or email the editor. You can also submit photos, videos or news tips to the newsroom and be entered to win a monthly prize draw.

We appreciate your comments and opinions on our stories, but play well. We will not censor or delete comments unless they contain off-topic statements or links, unnecessary vulgarity, false facts, spam or obviously fake profiles. If you have any concerns about what you see in the comments, email the editor in the link above.