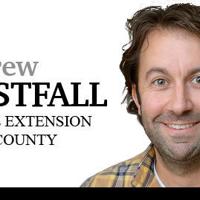 WESTFALL: Annie's Project prepares women farmers well | Agriculture
Women farmers are generating a cultural tide in American agriculture that shifts management, assets, and opportunity to a new wave of farmers across the country.
During Annie's Project classes, women farmers learn how to be better business partners or sole operators through networking and managing and organizing critical information.
Annie's Project, a six-week course, is a discussion-based workshop bringing women together to learn from experts in production, financial management, human resources, marketing and the legal field.
There is plenty of time for questions, sharing, reacting, and connecting with presenters and other participants. It's a relaxed, fun and dynamic way to learn, grow and meet other women farmers.
Whether they are new or experienced, understanding the five domains of farm risk, knowing how to analyze farm spreadsheets and other necessary skills are essential.
Learning them in a friendly environment where questions and discussions are welcome, allows the learning process to flourish.
Annie's Project courses have successfully reached over 9,000 farm and ranch women in 33 states. Purdue Extension is pleased to offer classes starting January 25, 2022 and ending March 1, 2022. This program will run virtually Tuesday evenings from 6 to 9 p.m. EST (5 to 8 p.m. CST).
The cost of the virtual course is $ 75 per person, which includes a workbook and support materials for all sessions. We recommend that you register early. Registration closes January 14, 2022. Register at https://cvent.me/01O5AB.
Linda, an Annie's Project alumnus, says, "I took the course to better understand the agribusiness and the impact of financial decisions on our farm. I have a better understanding of balance sheets and the futures market. This course improved communication with my partner on the issues he works with on a daily basis.
Andrew Westfall is Principal of Purdue Extension White County (Ind.).